ARCHITECTURE
Colonial Houses
Colonists arriving in America from Europe brought along some of the most distinct and beautiful styles of architecture. Many of these original Colonial Homes are rare to find, however they exist in stylistic " Revivals " of ideas that were found in the original Colonial Architecture. The Colonial Style is divided into seven categories; Postmedieval English, Dutch Colonial, French Colonial, Spanish Colonial, Georgian, Adam, and Early Classical Revival. The most common revisits of these homes in Readington are the Georgian and Adam styles .

• Adam
This architecture was popular between 1780-1820, locally to about 1840. The Adam design type usually displays windows five-ranked, symmetrically balanced with the center door, possibly the windows can be three or seven ranked as well. Windows also may have double-hung sashes, typically with six panes per sash. The Cornice is usually emphasized with tooth-like dentils or other decorative molding. A common feature in the Adam design also includes a fanlight over a paneled door, often accompanied by sidelights. The door framing usually involves an elaborated crown and may serve as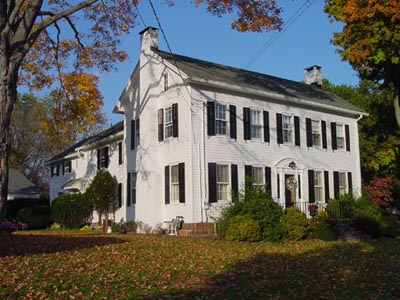 This structure was created C. 1830. It should be noted the original design to this house is only the front portion. The point at which the roof drops lower than the front portion is a 20th century addition, with no historical value to the original piece of the home. This home has windows Five Ranked along with a center window adjacent to the door as described in the paragraph at left. On the door we see an elaborated crown and sidelights.