THE READINGTON MUSEUMS
NEW JERSEY'S HIDDEN TREASURES
Museum Committeee Meeting Dates, Agendas, and Minutes
In lieu of the Readington Museums' traditional Dutch Christmas program that honors the Dutch heritage of the 1741 Bouman-Stickney Farmstead, we are sharing a virtual vignette of our past programs. We will miss seeing everyone this year, but hope to resume this program in 2021!
Click the link for our virtual Dutch Christmas: https://youtu.be/LtvVFBoTzs0

Virtual Tours
Tour the Cold Brook School:
Click here: https://youtu.be/UCpBcVZgvrI
What is the Bouman-Stickney Farmstead? Here is an overview, and the first of our virtual tour series:
Click here: https://youtu.be/qOp6Tj1MkbU
Tour the Bouman-Stickney Parlor:
Click here: https://youtu.be/LOVx3QlKnVA
Tour the Bouman-Stickney Bed Chamber:
Click here: https://youtu.be/umSSf5gZJWw
Tour the Bouman-Stickney Kitchen:
Click here: https://youtu.be/MUWjMNPzkWE
For those interested in Richard Pierce's flag collection, please visit his new exhibit online at: https://www.morven.org/stars-and-stripes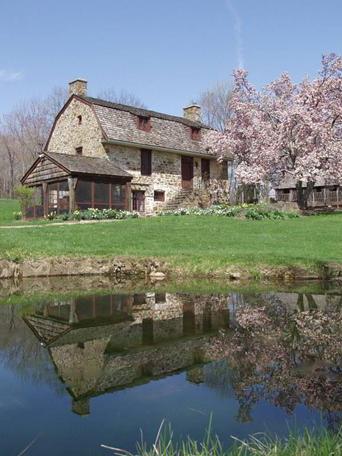 The Readington Museums, located in beautiful central New Jersey, were established to promote an understanding and appreciation of early New Jersey and Readington's history and culture through education, research, preservation, collection, and interpretation. The properties constituting the Museums are intended to be utilized as educational living history experiences for the community; to provide an appropriate setting for interpreting and preserving collections of artifacts relating to the history of the Township; and to offer an historic venue for a broad range of activities for Readington residents, such as educational programs, community cultural events and meetings of groups interested in local history.
Offices for the Readington Museums are located in the lovely Bouman-Stickney Farmhouse, a 1741 Dutch bank house on 68 acres of preserved Open Space.
| | |
| --- | --- |
| Eversole-Hall House circa 1753 | Wade-Wyckoff Barn |
To Contact Program Director
Office Address
114 Dreahook Road
Stanton, NJ 08885

Mailing Address
P.O. Box 216
Stanton, NJ 08885

Phone: 908-236-2327
Fax: 908-236-2306

Email: This email address is being protected from spambots. You need JavaScript enabled to view it.

Cold Brook School
Click Here for our new oral history articles by history intern, Barbara Krasner.
Readington Township - Book Offer
The Readington Museums received an operating support re-grant from the Hunterdon County Cultural & Heritage Commission, with funds from the New Jersey Historical Commission, a division of the Department of State.